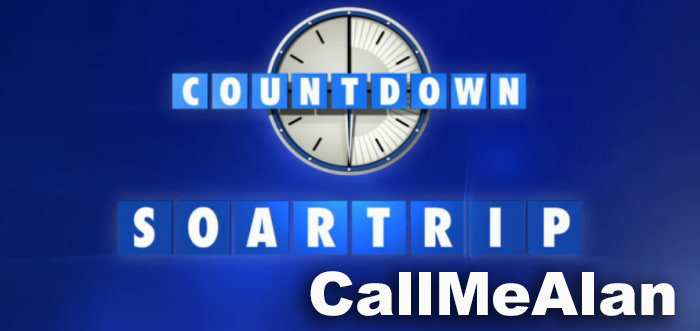 Crucial Hints - The Spoiler Page

In the last page I presented your programming challenge and asked you to devise ways to do the Countdown Words Game.

What it all comes down to is this: given 9 random letters, find all 9, 8 and 7 letter words which use combinations of those 9 letters.
The Logic
Nine letter words are the easiest: hits will contain all 9 of the input letters.

Eight letter words get a little more difficult. There will be 9 searches, each one will in essence exclude one of the 9 letters.

Seven letter words are the most complex. There will be 36 searches, ie, the number of combinations of 7 from 9, leaving out two letters at a time.

So we're going to be doing a total of 46 searches.
The Challenge
The challenge is simple: how can you tell if 'dosarmn' equals 'randoms' in the words list?

The answer: you don't! You need to do something different.
What we have to do:

The text file of words is no good as it stands. We need a massaged version, so:
We write a program which looks at each word in the dictionary and makes a sorted version of it. We then store the sorted version along with the proper word. This could take the form of a database table with two columns, sorted and proper. However, in Python, in which I wrote my solution, things are just as fast, if not faster, with a plain text file. Here is a sample from my file, which is saved as a CSV file:

directing,cdegiinrt
direction,cdeiinort
directive,cdeeiirtv
directly,cdeilrty
director,cdeiorrt
directors,cdeiorrst
directory,cdeiorrty
Directory,cdeiorrty
directrix,cdeiirrtx
directs,cdeirst
Diredawa,aaddeirw
direful,defilru
direfully,defillruy
direly,deilry
dirempt,deimprt
direness,deeinrss
direption,deiinoprt
direst,deirst
direxit,deiirtx
dirged,ddegir
dirgeful,defgilru
dirgelike,deegiiklr
dirgeman,adegimnr
dirges,degirs
dirgie,degiir
dirging,dggiinr
dirgler,degilrr
dirham,adhimr

I also have my dictionary in a database table. A sample:

abnegator aabegnort
abnerval aabelnrv
abneural aabelnru
abnormal aablmnor
abnormals aablmnors
abnormity abimnorty
abnormous abmnoorsu
aboardage aaabdegor
abococket abccekoot
abodement abdeemnot
aboding abdgino
abogado aabdgoo
abogados aabdgoos
aboideau aabdeiou
aboideaus aabdeiosu
aboideaux aabdeioux
aboiteau aabeiotu
aboiteaus aabeiostu
aboiteaux aabeiotux

That's two separate columns.


The second crucial point is that once the user has input the nine random letters this nine-letter word has to be sorted. Thus, from our example, regesnate becomes aeeegnrst.
Now, the dark clouds are lifted! All we are looking at now is a simple word-matching exercise! Look for aeeegnrst to find the nines, then remove one letter at a time from aeeegnrst and look for the resulting pattern. Finally remove two letters at a time . . . etc etc.


Finally - no duplicates in the displayed results. How? Well in my Python solution I use lists. Every time a hit is found the appropriate list - 9s, 8s or 7s - is checked to see if that word is already there. If so, ignore. The list is automatically sorted so this approach also satisfies our ordered results requirement.


And that's it! I'll leave the details to you. The above is not the coding answer; it's the secrets of how to get started, turning what at first may seem to be enormously difficult into a fairly simple text searching operation.

Discussion, comments, questions - all very welcome at alansworld {at} gmail.com